Ultimate Lifestyle Transformation
40 Day Cultural Detox Program
January 1st – February 10th 2021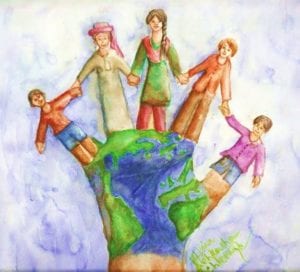 – I Am We Are –
Authentic Relationships & the Science of Oneness
Our next 40 Day Ultimate Lifestyle Transformation focuses on Authentic Relationships – taking us through a multi-layered process of uncovering who we are by examining how we relate with our moment to moment experience.
The process is rooted in a 40 day physical cleanse – combining supplements, superfoods, and a lifestyle protocol to create psycho-physiological changes that help facilitate cognitive shifts, changing the way we perceive and behave in the world.
The guest lecturers, weekly empowerment sessions, personal check-ins and online community serve as a support network and helps create cognitive change – while the physical cleanse, physical practices, techniques and processes create physiological change. The 40 days crystallize the psycho-physiological changes and serve as a solid foundation for true lasting Transformation.
The process is also supported and guided by the intelligence of the plants through living plant essences – which help facilitate deeper healing of trauma and access to re-write past conditioning.
Come explore the science of oneness and deep dive into the practical behavioral application that allows for greater authenticity, consciousness, and harmonious ways of relating to ourselves, others, and the world.
Program Objectives

Learn practical perspectives, tools and techniques that deepen your relationship with this moment and your ability to relate authentically to every experience
Experience greater freedom and authenticity in relationships as a natural byproduct of the perspective shifts and applying what you learn
Create a solid foundation for relating more authentically that allow for a more natural and easeful expression and positively affects your environment / situations
Establish the core value of Authenticity which informs the way we experience and behave
6 Week / 40 Day Cultural Detox Process Includes
Superfood / Lifestyle Based Physical Cleanse

Work with Plants Essences

Weekly Empowerment Sessions

Guest Presenters

Practices & Processes

Online Community

40 Day Workbook

Private Coaching

Program Details
The Physical Cleanse
Work with Plant Essences
Weekly Empowerment Sessions
Practices & Processes
Online Community
Private Coaching
The Physical Cleanse
THE PHYSICAL CLEANSE is the engine of the lifestyle transformation
DETOXIFY – a proprietary herbal formula to detox the microbiome from harmful chemicals specifically targeting glyphosate, support "good" bacteria and protect your microbiome from GMO damage. Also improves digestion and boots mood & immunity.
CLEANSE – herbs to eliminate parasites and enhances the body's peristaltic action which loosens embedded and impacted matter, helping your body to cleanse deeply and effectively.
Ingredients: Black Walnut Hull, Marshmallow Root, Clove, Wormwood, Amalaki, Cascara Sagrada Bark, Senna Leaf
NOURISH – nutrient rich vegan shake with super greens and healthy fats that deeply nourishes every cell of your body.
Ingredients: Organic Rice Bran Solubles, Organic Oat Flour, Organic Spirulina, Organic Millet, Organic Carrot Juice Powder, Organic Wheatgrass Juice Powder, Organic Amaranth, Organic Alfalfa Leaf Juice Powder, Organic Oat Grass Juice Powder, Organic Buckwheat, Organic Quinoa, Organic Raspberry Flavor, Organic Apple Flavor, Organic Lo Han Berry Extract, Organic Chia Seed
REGENERATE – super fruit with a wide variety of unique antioxidants and phytochemicals to help balance circadian rhythms, support healthy joint function and promote healthy uric acid metabolism.
Ingredients: Organic Sour / Tart Cherry Juice Concentrate
REBUILD – vegan amino acid supplement to restore optional system function and build resilience
Ingredients: L-Leucine, L-Lysine Acetate, L-Valine, L-Isoleucine, L-Phenyalanine, L-Threonine, L-Methionine, L-Tryptophan
Work with Plant Essences
4 Different plant essences have been carefully chosen to help facilitate the transformative process. You will receive these powerful allies before the 40 days begin, and will receive instructions for how to work with them throughout the process.
One of our Guest Presenters will share about the power of aromas and how to work with them to heal ancestral trauma and access deeper layers of the psyche.
The plants presence In the process are integral in reconnecting with mother nature and our own true nature.
The Power of Aromas / Plant Essences:
Perfumed oils and aromatic plants have been used for thousands of years to transform consciousness and expand states of mind. All over the world, complicated and often secret aromatic formulas were at the center of religious ceremonies. The bible has over two hundred references to perfumed oils, incense and aromatic substances that were used for healing the mind, body and soul and connecting to the divine. 
The sense of smell touches the unconscious most directly. All our senses, except our sense of smell, are filtered through a part of the brainstem called the thalamus. The thalamus filters and modulates the sensory input before it enters the cerebral cortex and consciousness. Your ears can focus on a quiet conversation in a noisy place, due to the thalamus. You don't feel the clothes on your skin right now, due to the thalamus. Your eyes only see what your brain tells them to see, through the thalamus. If the thalamus did not actively filter, we would be overloaded by sensory input.
Our sense of smell is different. Odors travel to the back of the nose where they come into contact with millions of olfactory neurons that connect directly to the limbic system, which is responsible for memory and emotion. Certain scents disrupt the Default Mode Network, which is responsible for our habitual frame of mind. Disrupting this habitual frame of mind is only one way aroma expands consciousness. The way these neurons encode scents is like a melody. Like certain transcendent melodies, certain can reconnect us to ourselves, to Nature, to Spirit.
-excerpt from https://www.cathysattars.com/aromatic-shamanism-a-manifesto/
Weekly Empowerment Sessions
All enrolled participants are invited to participate in the weekly live recorded 2.5 hour zoom Empowerment Sessions. Sessions will be available for replay via the online portal within a few hours of livestream.
In each session we explore the dynamics of Authentic Relationships – from perspective shifts to dynamic personal processes to practice / application. These sessions are inspiring, empowering, and uplifting – they create a sense of community and connection that form a backbone to the deeper process of aligning with an entirely new perspective towards life.
Sessions consist of 1 hour of core curriculum followed by 1 hour of guest a presenter with Question & Answers. These weekly sessions keep the inspiration and energy flowing as the process unfolds.
Mondays January 4th – February 8th
5:30pm EST – Core Curriculum
6:30pm EST – Guest Presenter
7:30pm EST – Q&A
SESSION CONTENT:
WEEK 0 INTRO – Cultural Detox Framework, Cleanse Overview & Protocol
WEEK 1 – Holism of Health – the Human Instrument – Terrain Theory & the Virome
WEEK 2 – Who Am I? – Radical Honesty
WEEK 3 – The Conditioned Self – Trauma – the Hidden Self – Hidden Agendas – Addiction – Cultural Trauma Perpetuation – Loving the Unhealable Parts of Oneself
WEEK 4 – Projections, the Shadow and Masks – Aromas as a Gateway into the Psyche & Healing with the Intelligence of the Plants
WEEK 5 – Co-Regulation – I Am We Are – Re-Villaging
WEEK 6 – We Are the World – Intro to Elemental Arts – Regenerative Inter-Being
Practices & Processes
YOUR DAILY PRACTICE
Participants are encouraged to commit to at least 15 minutes of dedicated time each day to "practice". If you don't already have a daily discipline, different practices will be offered that support the Cultural Detox process.  

WEEKLY CHALLENGES
Generally each week a "challenge" is given to practice throughout the week, which will help to ground the understanding for the week's topic and support the overall process of the 40 days. The challenge will often be quite simple and often a lifestyle choice rather than a dedicated sit down "practice". Your real challenge is always to apply your understanding to your life as best you can – each day – moment to moment.
WEEKLY YOGA & MEDITATION
Each week includes complimentary live and recorded meditation / yoga practices that support the multidimensional nature of the cleansing process. 
PROCESSES
As the cleanse unfolds different processes may be introduced to help guide psycho-emotional integration / "processing". These processes may include: clarifying intentions and life goals, assessing our daily stress levels & identifying key stressors, imagining our ideal day, etc. The processes will be dynamically chosen by the facilitators to help deliver transformative experience that supports the group / individual process.
Online Community
Join an online Facebook group to support the cleansing process. Participants have the opporunity to share inspiration, develop lasting friendships and receive support throughout their journey. After the cleanse the group will remain open, and participants will be invited to join an alumni group which will be populated by participants of previous Cultural Detox cleanse groups as well. 
Private Coaching
RamKrishan offers support to any participant who wishes to receive more personal guidance. Support is included in the CORE & COMPLETE 40 Day Programs or is available any time upon request.
45 Minute Intention Setting Session
A one on one private discussion of your personal goals and intentions, Ram Krishan will help you to clarify your intentions for the cleanse and offer suggestions for your success to help you maximize your time / transformation.  Start out with strong momentum and clear trajectory and make the most of your process.
25 Minute Weekly Support Sessions
Weekly sessions support your process by serving as a space for you to share the nuances of your experience and receive tailored coaching to help navigate any challenges that may arise. The sessions act like a mirror, allowing the process to be reflected back within the big picture context of the Cultural Detox process.  *Cultural Detox is simply a name given to the Universal Process of de-conditioning and moving towards the unconditioned state that all traditions point towards.
45 Minute Post-Cleanse Strategy Session
Review your 40 days, celebrate your triumphs and develop strategies to move forward with balance and ease. Receive practical suggestions for how to best keep the detoxification process going, and achieve your goals.
*Optional* Tantric Numerology Reading 
Learn about your strengths / challenges, identify areas for focus and receive personalized practices that target the areas you identify that are in need of strengthening / balancing.
Our Guest Presenters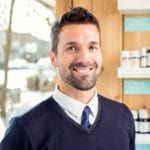 Dr. Nick Jensen
Week 1: Terrain Theory, the Microbiome & the Origin of Health / Disease
Click for Bio
Dr Nick is a Naturopathic doctor who practices with his wife Dr Sonya Jensen in their clinic Divine Elements Health Centre in Vancouver Canada.  
He has mentored under some industry leading experts in Hormone health and Detoxification. Dr Nick is constantly learning and is extremely passionate about teaching individuals to become the best version of themselves. Being a parent as well as a Doctor, he knows in order to teach it you have to live it and so both Dr Sonya and Dr Nick follow the philosophy of live it to lead it! 
Check out his podcasts and find out more about his online wellness school Divine Elements.

Visit His Website – Divine Elements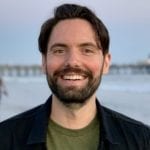 John Rosania
Week 2: Unraveling the Internal & External Culture of Pretend: An Intro to Radical Honesty
Click for Bio
John is the founder of Honesty Lab, a certified Radical Honesty Trainer, and leads group workshops around the US. He was the CEO of Radical Honesty Enterprises from 2018-2020 and continues to train trainer candidates. John is currently a graduate student in counseling at California State University and a therapist trainee at the Southern California Counseling Center.
Before founding Honesty Lab, John was the Head of Coaching and Director of Content at the Clean Program where he developed wellness educational modules and coached VIP clients. He has led live trainings at companies such as Google and Martha Stewart.
John is deeply committed to supporting people develop their capacities to notice their experience, share themselves honestly, get over past hurts, and develop a compelling life purpose.
John has a BA in Philosophy, conservatory training in acting and theater, and is a contributing author to two New York Times bestselling books, Clean Gut and Clean Eats.

Visit His Website – Honesty Lab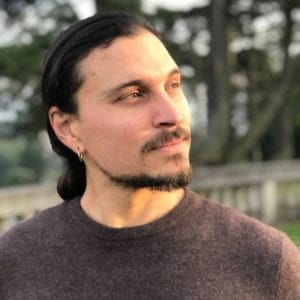 Arya Joti
Week 3: Our Relationship with What is Broken & Un-healable in Ourselves, Others, and the World
Click for Bio
Arya has dedicated his career to the craft of relating because he wants to live in a world made up of vibrant, authentic, and healthy relationships. It is his greatest joy and satisfaction to help couples make the critical shift that transforms their relationship into something truly alive and beautiful.

Visit His Website – Choosing Heart


Dr. Florian Birkmayer
Week 4: Aromas as a Gateway into the Psyche & Healing Generational Trauma with the Intelligence of the Plants
Click for Bio

Visit His Website – Aromagnosis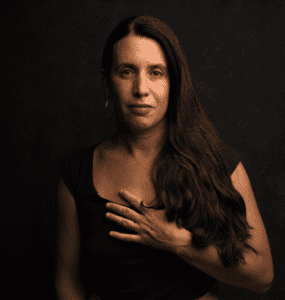 Rachelle Garcia Seliga
Week 5: Birthing a Culture of Togetherness
Click for Bio
Rachelle Garcia Seliga is a Mother, Wife, and Certified Professional Midwife, with 18 years of experience working within the realms of holistic women's health care. She is the Creator and Director of INNATE Postpartum Care Trainings; offering a framework of postpartum wellness to birth and health care providers worldwide.
Rachelle is Co-Founder of Starseed Root School of Traditional Healing, a re-villaging project and educational center in the mountains of Northern New Mexico.
All of Rachelle's work is dedicated to midwifing a cultural shift – honoring our innate wisdom, personal authority, and the sanctity of Life.

Visit Her Website – Innate Traditions


Ethan Hughes
Week 6: Regenerative Inter-Being – Living for the Wellness of Our Planet & All of Life
Click for Bio
Ethan and his wife Sarah are the founders of the Possibility Alliance, an intentional community and educational center committed to gift economy, electricity + petroleum free living, social justice and embodying permaculture principles to the best of their ability.
The project began with 20 acres of land in La Plata, Missouri over 11 years ago and recently moved to Belfast Maine. In Missouri the Alliance hosted a diverse array of 1,200 annual visitors to the site. Ethan has been car free for over 10 years and will not get in a car unless it's an emergency. He is living out a life in complete alignment with his values, and also, one could argue, in complete alignment with the planet.

Video of Ethan
He Doesn't Have a Website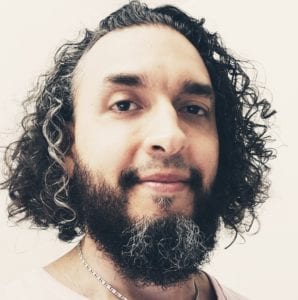 Yogi Ash
Meditation & Yoga
Click for Bio
YOGI ASH, a Caribbean Islander & now a Manhattanite Metropolitan Soul, Believes & Knows within His heart that without Deep longing, Self Love, Determination & Willingness, anything & any Practice in life renders itself almost devoid of full benefit. This is why His Yoga Asana, Meditation & Energy Healing practices are full of connection to "The Sacred Heart", to our Bodies, our Thoughts & Emotions & to our Life's Purpose so that a deeper level of Awareness & appreciation is developed therefore creating Clarity, Harmony & Equilibrium at all Levels.
ASANA, Meditation, Energy Healing/REIKI, Tuning Forks Sound Healing, Thai Bodywork, Foot Reflexology, CPTG Essential Oils & Heart's Truth are some of His "Tools of Mass Reconstruction" always One Soul at a time…
Testimonials
The 40 day Cultural Detox program was truly a deep, transformative experience. An awakening of a dormant self, given the opportunity to emerge and be present every day thanks to this array of supplements, support and a sharing of knowledge.


I felt sustained energy of being, clarity of mind & an openness of my heart. My stress levels decreased dramatically as I became more rested and revitalized. I was able to disengage from many unhealthy habits such as high sugar consumption, sleeping in late, alchohol & caffeine. I lost 16 lbs through healthy weight loss as well.
I will definitely be doing Cultural Detox at least 2 times a year from now on and highly recommend Cultural Detox to anyone looking to make improvements in their life be they physical, mental or spiritual.
-Chris
I thought the cleanse was fantastic, I felt so good, so much energy. As much as I thought it'd be hard to give up coffee and wine and various things, it really wasn't that difficult. Going forward it'll be easy to be more vegan, less coffee, less wine, less sugar. I realized that these cravings do go away. It was great and I would definitely do it again.
-Tara
I feel more awareness and more distance from a lot of distressing symptoms I would get. Intrusive thoughts, anxiety, emotions. I feel much more that I can see – that things aren't actually me, they aren't permanent features of me. I can have more curiosity, oh this will pass, why does it happen. Instead of going into like road rage, getting completely into an automated way of being .
-Tim
Ultimate Lifestyle Transformation
Begins

Order products with Express Shipping to ensure you receive the cleanse in time to start January 1st***Express shipping should arrive 3-4 business days***
$50 DISCOUNT Use Coupon Code at Checkout: VIBRANTHEALTH2020
Just the Content
Program without Supplements / Products
$150
$ 100
7 Empowerment Sessions
Guest Presenter's Lectures / Classes
40 Day Cultural Detox Workbook Download
Join the Online Facebook Community
Lifetime Access to Authentic Relationships Online Portal & Recordings
Core Detox
Ultimate Lifestyle Transformation Program + Kit
$450
$ 400
$10 a day
All of the Program's Content
Plus…
40 Day Ultimate Lifestyle Transformation Physical Cleanse
Plant Essences
Whole Experience
Cultural Detox Program with Personal Facilitation
$600
$ 550
$13.75 a day
All Included In Core Detox
Plus…
45-Minute Private Pre-Cleanse Intention Setting Session
Yogic Numerology
with Optional Recommended Practices
25-Minute Mid-Cleanse Assessment & Adjustment Session
45-Minute Post-Cleanse Strategy Session
Unlimited Email & Text Support
Mag07 Oxygen Supplement ($35 Value)
10% of all proceeds are donated towards relief efforts for the people of the Peruvian Amazon
Detox with the Seasons ~ Complete All 7 Modules
MODULE 7: Life As Ceremony
MARCH 2022
MODULE 6: Sacred Science
DECEMBER 2021
MODULE 5: Art of Freedom
SEPTEMBER 2021
MODULE 4: Radiant Heart
JUNE 2021
MODULE 1: Vibrant Health
MODULE 2: Authentic Relationships
JANUARY 2021
MODULE 3: Awakened Purpose
MARCH 2021
CULTURAL DETOX IMMERSION IN THE PERUVIAN AMAZON
*Required Participation in at least 2 Modules*
2022