MODULE 7: Sacred Connection




MODULE 6: Science of Remembering



MODULE 4: Wholeness Navigator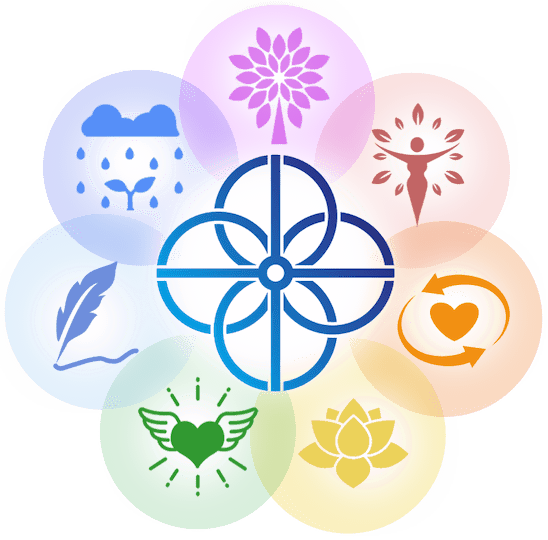 MODULE 2: Authentic Relationships



MODULE 3: Clarity & Integrity
10% of all proceeds are donated towards relief efforts for the people of the Peruvian Amazon
INTRODUCTION:
This online series is over 15 years in the making, drawing from experiences from the Amazon Jungle to Buddhist Monasteries and everywhere in between.  It is a synthesis of timeless wisdom and healing traditions to offer a structured holistic process towards our purest potential. The entire Cultural Detox process is spread across 7 modules leading towards the culmination of a 40 Day Cultural Detox  Immersion training in the Jungle.
True transformation is both top down and bottom up, meaning it takes both understanding and experience to create lasting change – and so we work with the physical body throughout the entire 7 module Cultural Detox Process in order to facilitate the psychophysiological shifts that create true lasting and sustainable change.
Each module focuses on delivering a framework of understanding, experience, a foundational shift, and the establishing of a new core value. Throughout the entire 7 module journey each individual forms new core values and practical understanding that empowers  more authentic and aligned behavioral intelligence – serving the greatest good, of oneself, others, and all of life.
The process is a science that works with psychophysiological function to literally re-wire or re-program our biological instrument to serve as an extension of our true identity and formless creative essence.
Cultural Detox Process Includes
The Physical Cleanse
THE PHYSICAL CLEANSE is the engine of the lifestyle transformation
DETOXIFY – a proprietary herbal formula to detox the microbiome from harmful chemicals specifically targeting glyphosate, support "good" bacteria and protect your microbiome from GMO damage. Also improves digestion and boots mood & immunity.
CLEANSE – herbs to eliminate parasites and enhances the body's peristaltic action which loosens embedded and impacted matter, helping your body to cleanse deeply and effectively. Ingredients: Black Walnut Hull, Marshmallow Root, Clove, Wormwood, Amalaki, Cascara Sagrada Bark, Senna Leaf
NOURISH – nutrient rich vegan shake with super greens and healthy fats that deeply nourishes every cell of your body. Ingredients: Organic Rice Bran Solubles, Organic Oat Flour, Organic Spirulina, Organic Millet, Organic Carrot Juice Powder, Organic Wheatgrass Juice Powder, Organic Amaranth, Organic Alfalfa Leaf Juice Powder, Organic Oat Grass Juice Powder, Organic Buckwheat, Organic Quinoa, Organic Raspberry Flavor, Organic Apple Flavor, Organic Lo Han Berry Extract, Organic Chia Seed

REGENERATE – super fruit with a wide variety of unique antioxidants and phytochemicals to help balance circadian rhythms, support healthy joint function and promote healthy uric acid metabolism.
Ingredients: Organic Sour / Tart Cherry Juice Concentrate
REBUILD – vegan amino acid supplement to restore optional system function and build resilience Ingredients: L-Leucine, L-Lysine Acetate, L-Valine, L-Isoleucine, L-Phenyalanine, L-Threonine, L-Methionine, L-Tryptophan
7 Empowerment Sessions
Practices & Processes
Private Coaching
The 40 day Cultural Detox program was truly a deep, transformative experience. An awakening of a dormant self, given the opportunity to emerge and be present every day thanks to this array of supplements, support and a sharing of knowledge.

I felt sustained energy of being, clarity of mind & an openness of my heart. My stress levels decreased dramatically as I became more rested and revitalized. I was able to disengage from many unhealthy habits such as high sugar consumption, sleeping in late, alchohol & caffeine. I lost 16 lbs through healthy weight loss as well.
I will definitely be doing Cultural Detox at least 2 times a year from now on and highly recommend Cultural Detox to anyone looking to make improvements in their life be they physical, mental or spiritual.
I'm still blown away that I've been eating vegan for 40 days
.
I lost 16lbs and I'm feeling amazing. That with the spiritual/shadow work I feel grounded, motivated and in tune with my higher self. I'm so grateful I listened to the calling to go within Jan 1st. I will continue to move forward with this lifestyle. So motivated to continue this journey. Grateful and blessed!!
I thought the cleanse was fantastic, I felt so good, so much energy. As much as I thought it'd be hard to give up coffee and wine and various things, it really wasn't that difficult. Going forward it'll be easy to be more vegan, less coffee, less wine, less sugar. I realized that these cravings do go away. It was great and I would definitely do it again.
It's been very expanding for me on all levels. Each week we gather and learn other layers to bring in greater awareness of living true to ourselves. I love learning of myself through observation, community and gradually shifting my patterns to habits of health without thinking. RamKrishan does a detox every quarter so you can always jump in on the next.
I feel more awareness and more distance from a lot of distressing symptoms I would get. Intrusive thoughts, anxiety, emotions. I feel much more that I can see - that things aren't actually me, they aren't permanent features of me. I can have more curiosity, oh this will pass, why does it happen. Instead of going into like road rage, getting completely into an automated way of being .